Olive oil in Crete (II)
Furthermore, the therapeutic benefits of consuming olive oil, already recognised by the father of medicine, Hippocrates, are confirmed and specified by modern medicine. Olive oil is rich in mono–unsaturated fatty acids, which are valuable for the biosynthesis of lipids, and for the structure of cell membranes. At the same time, it provides energy, and therefore vitality. It is beneficial to the growth and development of the central nervous system and the brain. It is easily digested by the human organism, and it also contributes to the digestion of other fatty substances because it facilitates the peptic system, for instance the liver function. It relaxes contractions of the gall bladder and prevents the development of gall stones. Recent research indicates that it may reduce the chances of developing breast cancer.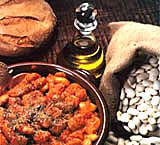 It is certain, that olive oil prevents the hardening of the arteries (arteriosclerosis), by changing harmful levels of low density cholesterol (LDL) into beneficial high density cholesterol (HDL), thus preventing cardiovascular problems. According to very recent research, this is partly due to the green flavinoids in the oil, and oil from Crete is among the greenest to be had. Surely, it is no accident that Cretans have a very long life expectancy: their average consumption of olive oil is about 33 litres a year, 50% more than other Greeks, and three times as much as Italians and Spaniards.
This excellent unmixed olive oil from Crete is what we offer you.
Well, you might ask. What about its fragrance and taste?
Our answer is: it's the famous fruity and grassy taste of Cretan oil.
Our suggestion is: have a try – you won't regret it!

BACK to Olive Oil in Crete (I)