MINOS Natural Spring Water
An exceptionally fresh and neutral tasting still mineral spring water. It is rich in calcium and magnesium bicarbonates, which are essential for our health.
It comes from the famous "Boutsounaria" spring, which is fed by the snow of the huge and lime stone "LEFKA ORI", Greek for "White Mountains".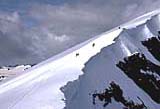 While visiting West Crete, you have seen this mountain range with its more than 50 peaks over 2000 m high, towering over the old town of Chania.
It is the very same area, were our delicious olive oil comes from.
MINOS Natural Spring Water
LOAD SPECIFICATIONS